Rowdy Frankfort Kids…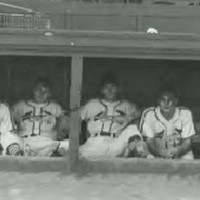 West Frankfort Cardinals owners Pete Mondino and Charlie Jacobs were keen promoters, and in the world of minor league baseball, such acumen is oftentimes the difference between playing another season and closing up shop.  Recognizing that making as many of West Frankfort's young residents as possible into Cards fans might mean a better shot at drawing moms and dads to the park, they developed "The Knothole Gang," a special club just for kids.
The Knothole Gang was reserved for grade school age children, and the 'Birds tabbed local junior high coach Ira Ragsdale to help market the idea.  School officials allowed Ragsdale to sell Knothole Gang buttons in the schools for $1.  At first, the idea was that the buttons would grant members complimentary admission to all 60 home games and access to a special bleacher section at the park.  Two cents a game seemed like a pretty good deal and the "Knotholers" gang was quickly more than 800 strong.
Turns out West Frankfort kids can be a handful, though.  By mid July, team officials thought better of the whole free admission idea in lieu of a 30 cent admission charge for members.  All Knotholers now had to be accompanied by a paying adult, too.  Apparently even those moves made team brass think twice about the whole thing, strongly considering the possibility of scrapping the whole idea.  The July 19th Daily American included an announcement from team officials who had reluctantly agreed to continue the club "with certain reservations," urging parents to control their youngsters' "rowdyism and vandalism."
So I guess that begs the question…was your grandma or grandpa a part of the Knothole Gang?  Or maybe that nice lady at church (rumor has it that WF First Baptist's organist and handbell choir director was once a Knotholer…disconfirmed, although she's still ornery!)?  If so, the next time they get on to a rowdy grand kid, jut tell 'em you're onto 'em.  You've heard stories about how a pro ball team had to change policies mid-year just to corral them and all their destructive ways.