The Team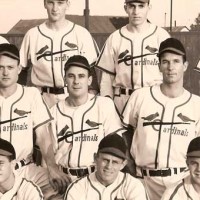 Pete Mondino was a baseball man.  The West Frankfort native was a former pro catcher and manager who, by some accounts, had big league stuff but lacked big league eyesight.  In a time far before laser eye surgery or even contact lenses, wearing glasses was a stigma that was difficult for even the most gifted athletes to overcome.  In nine seasons, Mondino had played for 13 teams from Amarillo, Texas to New Orleans, Louisiana and several points in between.  He also managed to mix in a couple of seasons as player/manager from 1937-1938 for the Paducah Indians of the Kentucky-Illinois-Tennessee, or "Kitty" League, ultimately concluding his playing career at the age of 33.
As best can be ascertained, Mondino returned home to West Frankfort after that 1938 season, eventually settling back in to "normal" life and opening a pool hall just off main street.  Mondino's place was a favorite for local Joes looking to shoot some pool, play some cards, drink some beer, and talk some sports.  And boy, did Mondino ever love to talk sports.  At some point, conversation of owning a minor league baseball team turned serious.  Likely driven by one part competitive fire stoked from years trying to forge ahead as a career minor league journeyman and another part entrepreneurial spirit honed from a few years as a small business owner, Mondino was all too willing to accept the challenge.  Always the competitor, Pete's new quest was on.
Mondino's firsthand experience made him the best equipped man in town when it came to understanding the inner workings of a minor league ball team.  It also made him aware that the idea would never get off the ground without additional capital.  Wealthy local jeweler Charlie Jacobs was a Frankfort loyalist with a soft spot in his heart for sports, making him an excellent potential business partner for Pete.  Unimaginable in today's hyperlegislated, overprosecuted legal quagmire, Mondino's idea went from inception to implementation in a matter of weeks.  Jacobs, Mondino, and local Tony Finazzo together formed the West Frankfort Baseball and Amusement Corporation (WFBAC) and quickly aligned with the upstart Illinois State class D baseball league (ISL).
Want to read more?  Check out Season of Change: Baseball, Coal Mining, and a Small Town's Struggle to Beat the Odds