The Town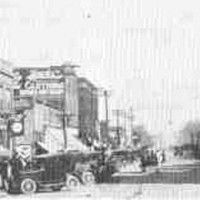 From the book Season of Change
Just ten miles to the north of Marion, a quiet, quaint spot in the road sits comfortably in the rolling hills of southern Illinois, just a stone's throw away from US Interstate 57.  The town of West Frankfort, home to some 8,000 residents, enjoys a rich history and has literally risen and fallen with the tumultuous and often misunderstood bituminous coal industry.  To the uninformed, modern day West Frankfort is just like pretty much any other little town in America with its corner gas station, aging high school, and other requisite evidences of small town life.  And sadly, modern day West Frankfort certainly bears little resemblance to the boom town it once was in days gone by.
Initially established in 1804 by a small band of frontiersmen, the original settlement was actually composed of little more than a few primitive three-sided huts referred to as "pole sheds."  Life was hard in the new frontier, and tensions were high as settlers moved west, claiming land for themselves and displacing the Native Americans who predated them.  A short time after the initially setting up house in the pole sheds, settlers were informed that by order of governor Ninian Edwards, all Illinois settlements were to build block houses and forts as a means of protection against Indian attack.  Francis Jordan, his brothers, a few other families, and a number of indentured servants completed construction on the fort in 1811.  As time went on, the new settlement, named "Francis Jordan's Fort," was shortened in daily conversation to "Francis' Fort," then "Frank's Fort," then finally Frankfort.
The town was chosen as the first seat in the newly organized Franklin County in 1821, and continued to establish itself as a leading area trade and commerce center.  Due to its geographic position on the main crossroads of trade routes at the time, some folks considered Frankfort the most important town in all of Illinois, rivaling even Chicago and river port Shawneetown for significance.  Although eventually and grudgingly relinquishing her county seat status to nearby Benton some twenty years later, Frankfort continued to grow slowly until 1895, when word of progress came to town.  A railway was being planned.
However, residents feared that the path of a new transportation artery, 4.25 miles west of town, would spell disaster for Old Frankfort.  They were right.
In 1897, the community of West Frankfort slowly started developing around this bold new double beamed iron linkage to the world.  In just a few short years, only a handful of stalwart residents and the remains of a few crumbling buildings built by order of the Governor were left in old Frankfort.  Meanwhile, new streets, homes, churches, and municipal buildings continued popping up to the west near the railroad.  The initial trickle of movement westward grew to a steady stream as a result of one thing: coal.  Fueling and financing it all was ton after ton of the rich, black "rock that burned" lying deep within West Frankfort's guts.
Want to read more?  Check out Season of Change: Baseball, Coal Mining, and a Small Town's Struggle to Beat the Odds