The Furniture Capital of Southern Illinois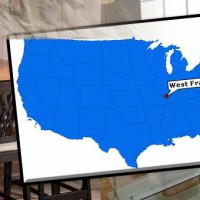 The steady decline of the high sulfur coal industry in West Frankfort and the surrounding area has certainly taken its toll and slowly wounded the local economy for decades.  The population of many southern Illinois towns has continued to decline throughout the past decade.  However, those who remain still need work, even if it isn't in a mine.  Southern Illinois miners are highly regarded for their work ethic, and an unemployed miner is still knit from the very same moral fabric as his employed brethren.  What he lacks is not fortitude but rather opportunity.  With that in mind, a number of ventures have been pursued throughout the years to put those folks to work elsewhere, hopefully softening the blow of coal's eminent slow, steady death.  However, so far, nothing has come close to taking its place.
One such venture started almost 30 years ago but continues today.  In 1982, five enterprising West Frankfort furniture merchants got together and decided to pool their marketing dollars in a collective advertising campaign targeted at getting new shoppers into town.  The result was a widely broadcasted effort to crown the town "the Furniture Capital of Southern Illinois."  Oddly enough, the steady population decline over the decades from its peak in the 1920's had created opportunity.  An oversupply of quality retail space in the downtown area was available for significantly less than market value.  Always hungry for finished space while minimizing overhead expenditures, a vast and thriving furniture business would be a great fit.  However, changes in the town's economy linked to that loss of population and their spending power meant that local businesses could not reasonably expect to succeed if the only targets were local customers.  Instead, determined merchants would have to cast a bigger net and start fishing for dollars in the larger regional pond.
The "Furniture Capital" campaign was well received and successfully established the town the region over as a destination for furniture shoppers.  It continues to provide one of the few bright spots for the local economy.  Four of the five original merchants are still in operation and plugging away with modest success.  A number of other furniture shops have come and gone along the way, too, helping solidify West Frankfort's place as the place to go for furniture in the southernmost sixteen counties of the state.
Some of my earliest memories of West Frankfort involve the Old King Coal festival and the old "Furniture Capital" campaign ads on TV.  For others, their first memories of West Frankfort are far different.  Share your first recollections of town by commenting below.
Want to read more?  Pre-order Season of Change today and discover the ways West Frankforters have persisted and thrived in the face of a dwindling coal industry.